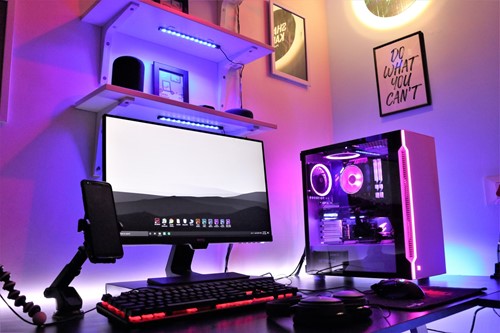 For many gamers, the experience goes far beyond the console or computer. Whether utilitarian or purely aesthetic, there are many elements that add together to create the best gaming conditions possible. Here are some gift ideas for PC gamers to help them get the most out of their gaming experience:
Portable Desk Fan
Computer equipment generates a lot of heat. While PCs have fans built in to protect the interior parts from getting too hot, they can still influence the ambient temperature of the room. A small but powerful desk fan will help keep you cool and comfortable, no matter how much heat you generate.
You can also opt for a larger tower-style fan or traditional box fan, both of which will move the air more efficiently. However, the larger the fan, the more likely it is to be loud. While the noise doesn't bother everyone, a loud fan in the background can make it difficult to hear and communicate over headsets while gaming with friends.
Speakers
A suitable set of speakers can dramatically enhance PC gaming. While many gamers choose to listen through headsets, powerful and high-quality speakers make an excellent gift and provide more audio options. The notable thing is they are relatively easy to buy—you don't have to research lots of technical jargon in order to make an excellent choice. All auxiliary speakers have the same connectors, whether you are buying them for a television or computer.
Wireless speakers that connect via USB are a very convenient choice because they allow for the most freedom of placement in a room or on a desk. However, avoid bluetooth speakers unless you're sure the PC can support them, as not all computers are set up for bluetooth accessories by default.
RGB Light Accessories
From mice and keyboards to pure decoration, RGB lights make a bold statement and add to the futuristic feel of a gaming setup. Modern mechanical gaming keyboards and gaming mice typically have RGB light features, so finding additional accessories to match can be a great gift idea. Look for options like mouse pads, headsets or even DIY light kits you can attach to the wall or desk. If you're short on extra space, you can purchase lighting strips to attach to the back of a PC monitor for a colorful back-lit glow.
RGB light accessories are not everybody's taste, but it's hard to resist the colorful futuristic aesthetic they give to a gaming space. One thing to consider is that while the lighting features are becoming more popular and widely available, vendors recommend buying matching sets of accessories that you can control simultaneously with provided software. Depending on the company, this can make it a higher priced option, but there's nothing wrong with starting small.
Purchasing tech accessories and peripherals for somebody else can seem daunting. After all, so many decisions depend on specific taste or brand loyalty. When in doubt, gift cards to online or in-person tech retailers are always a wonderful gift for PC gamers. You'll be giving the gift of choice and the technology itself, which will make for a more personalized gaming experience.